Flu Vaccination Clinics 2020
Flu clinics will be available from mid-September. These clinics will include Saturdays, evenings and appointments during the day. Appointments will be available at Lime Tree Surgery, Durrington Health Centre and Phoenix Medical Centre.
We are expecting for the child flu clinics to start during September, as soon as the vaccines are available to order.
Current clinic dates (Please note each date is available at Lime Tree Surgery; Durrington Health Centre & Phoenix Medical Centre)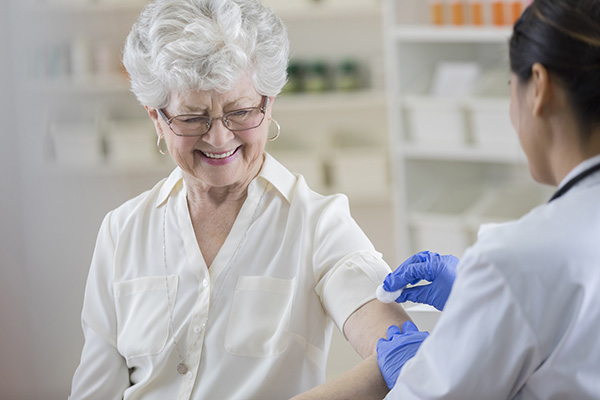 Saturday 26th September 2020 : 8am-5pm (OVER 65 AM / 18-64 in clinical risk group PM)
Monday 28th September 2020 :  5pm-9pm (18-64 in clinical risk group ONLY)
Saturday 10th October 2020 : 8am – 5pm (OVER 65 ONLY)
Saturday 17th October 2020 :  8am – 5pm (OVER 65 ONLY)
This year our flu appointments will be booked at longer intervals (4 minutes per appointment rather than 1 minute that we booked in previous years) to allow us to maintain social distancing.
On arrival you will be asked to collect an appointment confirmation card from reception and have your temperature checked. If your temperature is 37.8 or above you will not be able to have your vaccination on that day.
Once you have had your temperature checked with reception, you may proceed to the nurse. Please provide the nurse with your card. Once you have had your vaccine, please leave the building straight away unless you are feeling unwell (please let the nurse know) or need to assist someone else. 
Latest information from NHS England (03/09/2020)
Please note that, if you are aged between 50 and 64 and not in a clinical at risk group, the earliest you will be offered a flu vaccination is November, providing there is sufficient vaccine. No appointments will be offered for people in this age group until then. This is to ensure that those who are most at risk are vaccinated first. If you are aged 50 to 64 and are in a clinical 'at risk' group which is eligible for the flu vaccination, for example you have a health condition which puts you at risk from the flu, you will be invited earlier.
Attending the surgery for a flu vaccine
Under the new infection control guidelines; in order to protect both patients and staff, we would like to ask for the following to be adhered to:
Please wear a face covering when coming in for your flu jab. The clinician will be wearing a face mask and visor.
Please wash your hands or use an antibacterial gel before entering the premises
Only two people per household can attend at one time
There will be floor stickers to help you keep the recommended social distance
If possible, please wear a short-sleeved top under your coat for easy and quick access to your arm
Please only attend the practice at your given appointment time. You will be asked to wait outside until your appointment time
On arrival, temperatures will be checked and you will be screened for other Covid symptoms
Adhere to social distancing measures
Any surfaces that you come into contact with in the clinical room will be thoroughly wiped down before the next patient.
After your vaccination
The injected flu vaccine cannot cause flu because there are no active viruses in the vaccine. The majority of patients do not have any symptoms after the vaccine but the most common side effects are:
pain, swelling, bruising, hardness or redness at the injection site.
slightly raised temperature (fever)
headache; sweating.
aching joints or muscles.
shivering; tiredness.
feeling generally unwell
Tips to ease the discomfort:
continue to move your arm regularly; do not let it get stiff
apply a cool flannel to the arm if inflamed
take a painkiller, such as paracetamol or ibuprofen (some people, including pregnant women, should not take ibuprofen unless a doctor recommends it)
if you there is any reason you need to have a blood test within 48 hours of vaccination, please inform the phlebotomist you have recently a flu jab
Flu (influenza) is a common infectious viral illness spread by coughs and sneezes. It can be very unpleasant, but you'll usually begin to feel better within about a week. … Flu is caused by a different group of viruses and the symptoms tend to start more suddenly, be more severe and last longer.
Flu vaccine overview
Flu vaccination is available every year on the NHS to help protect adults and children at risk of flu and its complications.
Flu can be unpleasant, but if you're otherwise healthy, it'll usually clear up on its own within a week.
But flu can be more severe in certain people, such as:
Anyone aged 65 and over
Pregnant women
Children and adults with an underlying health condition (such as long-term heart or respiratory disease)
Children and adults with weakened immune systems
Who should get the flu vaccine?
The flu vaccine is routinely given on the NHS to:
Adults 65 and over
People with certain medical conditions (including children in at-risk groups from 6 months of age)
Children aged 2 and 3 on 31 August 2020
Children in primary school
Frontline health or social care workers
Anyone in these risk groups is more likely to develop potentially serious complications of flu, such as pneumonia (a lung infection), so it's recommended that they have a flu vaccine every year to help protect them.
Which type of flu vaccine should I have?
There are several types of flu vaccine.
You'll be offered the one that's most effective for your age:
Children aged 2 to 17 in an eligible group are offered a live attenuated quadrivalent vaccine (LAIV), given as a nasal spray
Adults aged 18 to 64 who are eithe
r pregnant or at increased risk from flu because of a long-term health condition, are offered a quadrivalent injected vaccine – the vaccine offered will have been grown either in eggs or cells (QIVe or QIVc), which are considered to be equally suitable
Adults aged 65 and over will be offered either an adjuvanted trivalent injected vaccine grown in eggs (aTIV) or a cell-grown quadrivalent injected vaccine (QIVc) – both vaccines are considered to be equally suitable.
If your child is aged between 6 months and 2 years old and is in a high-risk group for flu, they'll be offered an injected flu vaccine as the nasal spray is not licensed for children under 2.
Talk to a GP, practice nurse or pharmacist for more information about these vaccines.
Flu vaccine side effects
Serious side effects of the injected flu vaccine are very rare.
You may have a mild fever and aching muscles for a couple of days after having the vaccine, and your arm may be a bit sore where you were injected.
Side effects of the nasal spray vaccine may commonly include a runny or blocked nose, a headache, tiredness and some loss of appetite.
Published: Sep 25, 2020